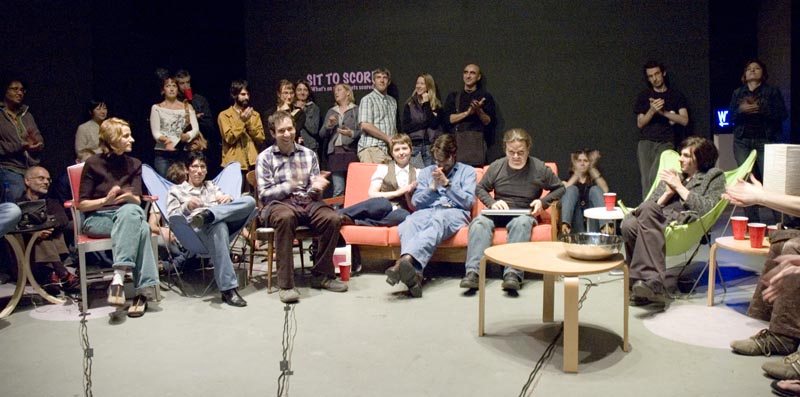 About
Furniture Music is an interactive sound-art piece that depends on audience participation. Eight pieces of furniture are wired with discrete contact microphones, and have corresponding loudspeakers placed beneath them. The audience is unaware of the microphones which have subtly attenuated gain moving from silence to +60dB over several minutes.
When the piece begins the audience is sitting in silence, and as it progresses they begin to fidget not noticing that the furniture sounds are subtly louder than they should be. As the gain increases the audience catches on and starts to play the furniture like instruments.
This piece was performed at the Telic Gallery in Los Angeles as part of the 2006 Mario's Music event.
Photos
Warning
: Undefined variable $url in
/home/c00p/www/lib/render.php
on line
19
Fatal error
: Uncaught TypeError: Unsupported operand types: null - string in /home/c00p/www/lib/render.php:19 Stack trace: #0 /home/c00p/www/home/artwork/live furniture/files/content.php(17): gallery() #1 /home/c00p/www/lib/index.render.php(44): require('/home/c00p/www/...') #2 /home/c00p/www/home/artwork/live furniture/index.php(24): require('/home/c00p/www/...') #3 {main} thrown in
/home/c00p/www/lib/render.php
on line
19